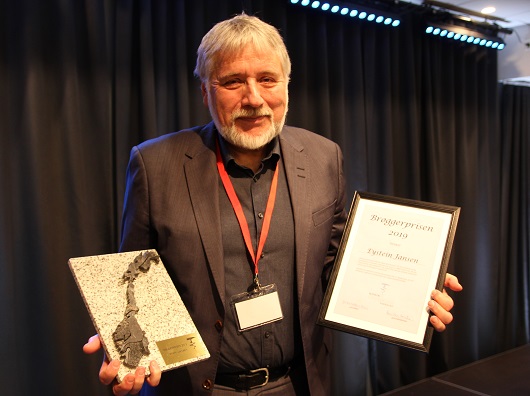 During the annual Norwegian Geological Society winter conference held in Bergen this week Eystein Jansen was today awarded the Brøgger prize. The prize is the highest mark of honor a geologist can be given in Norway and is awarded to persons "…that have contributed in a unique way to understand especially the geology of Norway or geology in general" as written in the prize statutes.
The list of Eystein's important scientific contributions given by the jury is very impressive; first the establishment of the Laboratory for geological mass spectronomy in Bergen in 1983, then the establishment and leadership in the Bjerknes Center for Climate Research (CoE) for 13 years starting in year 2000, his involvement in the establishment of the SapienCE – Centre for early human behavior (another CoE) in 2017, his contribution to the IPCC report and not at least his decisive role for the understanding the ocean circulation in the North Atlantic and link to the variation of ice sheets during the ice ages.
The fact that he has brought together geologists and modellers to better understand the climate system (as in Ice2ice) is also mentioned as an important contribution by the jury.
Congratulations Eystein!
You can read about Eystein and the award here, unfortunately only in Norwegian.