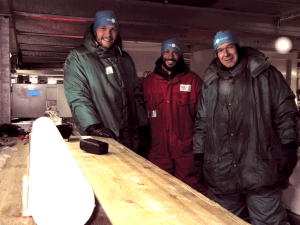 Ice2ice members Bo Vinther, Paul Vallelonga and Thomas Blunier started a trip to collaborators at Alfred Wegener Institute (AWI), Bremerhaven, Germany from Copenhagen, Denmark on sunday with a car full of labelled plastic bags.
The plastic bags are used for the multiple pieces of the 584.11 m of Renland ice core. The ice core was already cut into 55 cm pieces while still in Greenland, but are now further being split into sections for different measurements. The cutting takes place at AWI and not in Copenhagen as they at AWI has a freezer set up for exactly such work.
Further Di-electrical profiling (DEP) of the ice can be done there. DEP inform on the electrical properties of the ice. Also preliminary scrapings of the ice core sections are being taken to inform on the temperatures of the past climate as determined by water isotopes and thus help to make a quick constrain on the ages of the Renland ice core.
The cutting of the Renland ice core will continue the next 3 weeks and more ice2ice participants will join the processing.